Comedian and talk-show host David Letterman found out last week that life in the big leagues on television is not always a laughing matter.
Letterman opened his Thursday night monologue by sharing what he told a grand jury earlier that day: He had been the victim of a $2-million extortion and blackmail attempt by a CBS producer. The producer, Robert "Joe" Halderman, allegedly threatened to expose a number of affairs Letterman has allegedly had with women who work for CBS. He was arraigned Friday and charged with first-degree grand larceny, punishable by five to 15 years in jail. He's out on bond and promises he has more to tell about Letterman that will vindicate the Emmy-Award winning producer.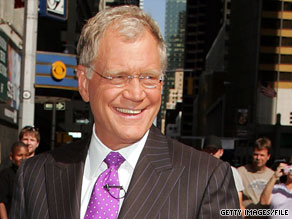 While the audience laughed at times last Thursday, it is clear CBS and Letterman's company, Worldwide Pants, Inc., which rakes in millions annually according to published reports, are not laughing right now as it's only a matter of time before more ugly and sordid details come out.
Only Letterman knows how many women he squired and whether the 62-year-old engaged in these work-related affairs during his 6-month marriage to Regina Lasko, the mother of his 5-year-old son.
Letterman regularly cracks me up with a list of "Top 10 Reasons…" on any given popular subject of the moment.
Whether A-Rod or Madonna or Michael Jackson or Obama, nothing is off-limits with the gap-toothed funnyman —even Sarah Palin's daughter was the subject of a much-discussed joke in his monologue.
However, with last week's revelation and Letterman's attempt to do damage control by breaking the story first on his own show, CBS should add to that damage control and apologize immediately.
CBS should also give Letterman the "Top 10 Reasons" he should voluntarily take a leave of absence and suspend himself to quiet the damage he has done.
READ: Don't have the women's rights groups and our advertisers call us about your behavior, Dave, and then force the network brass to issue a statement and loose particular sponsors.
Since Letterman likes to talk in lists, the CBS brass should tell him these are the "Top 10 Reasons" and if you step down briefly, it will allow the network to:

10- Show women that after the Sarah Palin fiasco and other insensitivities to women, Letterman FINALLY gets it;
9- Give Letterman time to revisit the CBS manual on sexual harassment and workplace affairs and the dangers;
8- Save the women involved any more embarrassment (the young assistant whose face has been shown everywhere as one of the women name will not be mentioned in this column, will have a very hard time rebounding and will be known in the same chuckle under your breadth that greets Monica Lewinsky's behavior with a man of similar age as Letterman);
7- Give Letterman time meet with these women and apologize, hopefully, seal their silence, and most likely, if necessary, make a small contribution to their retirement fund;
6- Give this humiliating nightmare time to die-down in the media (the more Letterman is on air, the more the jokes will come and columns, like this one);
5- Give Letterman time to spend with his son and family and to explain "what's all the fuss about Daddy and this young assistant…"
4- Give Letterman time for some therapy and counseling, if needed;
3- Give Letterman time to privately remove his wife from the humiliation he has caused her (even if the relationships were pre-marriage –it is still embarrassing, akin to your wife publicly finding out you were into something crazy in college or law school)
2- Save advertisers the pain of dropping him due to pressures from its consumers; and
(as Letterman says often, "The Number One reason is…..":)
1- Show that Letterman is owning-up as the boss and manager of his company by admitting "I was wrong and I will take a leave of absence to think about how I can do better."
Letterman, stop the laughing, giggling and flirting with female employees (and guests) and get serious here and do the right thing before CBS is forced to do the right thing!!!!